Scotland's vaccine passport scheme may feature spot checks for large scale events such as football matches.
Health Secretary Humza Yousaf said such a move could "potentially" be introduced when the scheme goes live on 1 October.
It came after the head of Scotland's professional football league said it would be "very difficult" to check that all fans had a vaccine passport.
Scotland's vaccine certification scheme means people over the age of 18 will need to show they have had both doses of a Covid vaccine before they are allowed entry to nightclubs and major events.
This includes outdoor events of more than 10,000, which will cover football matches involving larger clubs.
Mr Yousaf was asked about the practical difficulties of vaccine passports on BBC Radio's Good Morning Scotland.
He added: "We acknowledged that for a different setting you are going to have to have, probably, different rules depending on that setting and you wouldn't want any adverse impacts, for example lots of people queuing and then potentially any crowd trouble that would follow on from there."
Questioned specifically about spot checks, he told the programme: "That is absolutely an option that we are happy to consider."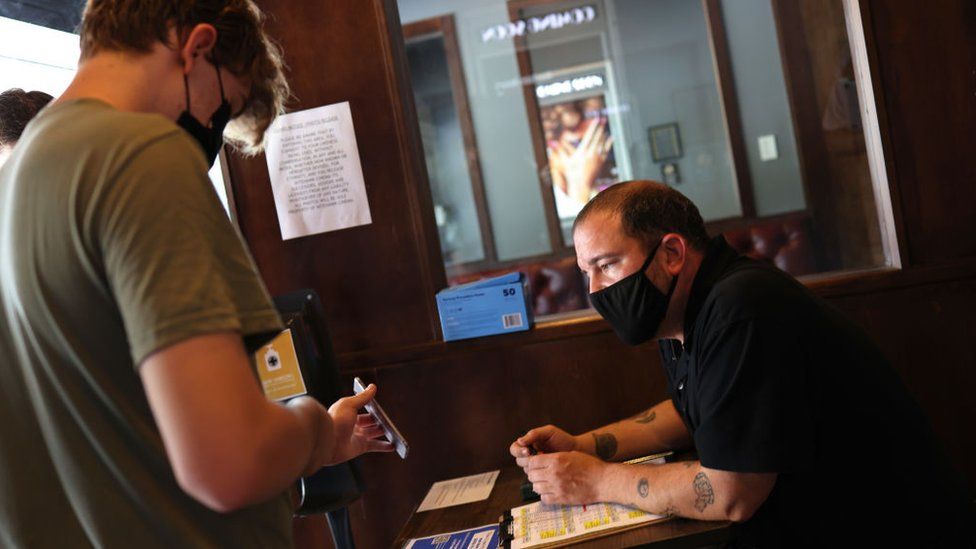 The health secretary said he was "surprised" by the decision to ditch the vaccine passport scheme in England and questioned whether it was taken on public health or political grounds.
Mr Yousaf also said ministers are "still working" on the definition of a nightclub.
Meanwhile, Scottish Conservative MSP Murdo Fraser welcomed the UK government's decision to abandon vaccine passports and said Scotland should now follow suit.
"The Scottish government have made a decision in the absence of evidence," he said.
Disorder risk
Mr Doncaster told BBC Scotland's The Sunday Show that the SPFL was "hugely concerned" about the practicalities of delivering the scheme.
The football executive said blanket inspections of vaccine certification would risk "disorder" as frustrated fans turned up for games ahead of kick-off.
He added: "I think it can work, but I think spot-checking is frankly the only practical reality because if you are expecting football clubs to vaccine-passport-check 30,000 or 40,000 people in the minutes before kick-off, that's simply not going to happen.
"I don't think it's achievable, realistically."
Some businesses have complained of a lack of detail about how the scheme will work in practice.
The proposals were opposed by the Conservatives, Labour and Liberal Democrats.