Women requiring the surgical removal of mesh implants have said "very little" has happened since a landmark Scottish government announcement in the summer.
The pledge means patients can now receive free treatment from specialists in America and England.
But campaigners said initial assessments in Glasgow were taking up to two years.
The Scottish government said it was working with NHS Specialist Services to improve waiting times.
A protest is being held in Glasgow on Wednesday and the issue is due to be raised in the Scottish Parliament.
Implant use was stopped in Scotland after hundreds of women were left with painful, life-changing side effects.
In July, the Scottish government announced surgery and travel costs to Spire Health Care in Bristol and the Mercy Hospital in Missouri in the United States would be covered.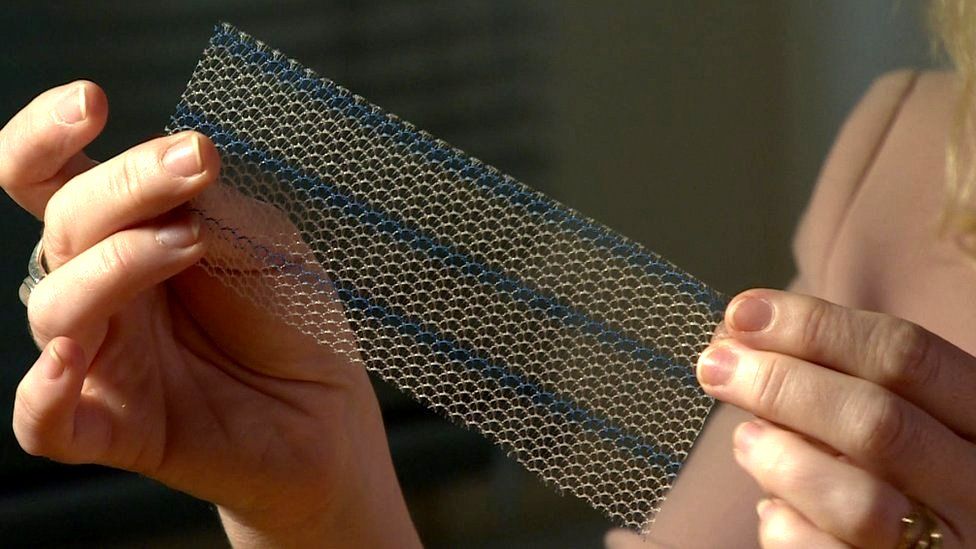 The cost of each procedure is estimated to be £16,000 to £23,000.
Mesh implants have been used to treat conditions some women suffer after childbirth, such as incontinence and prolapse.

What are mesh implants?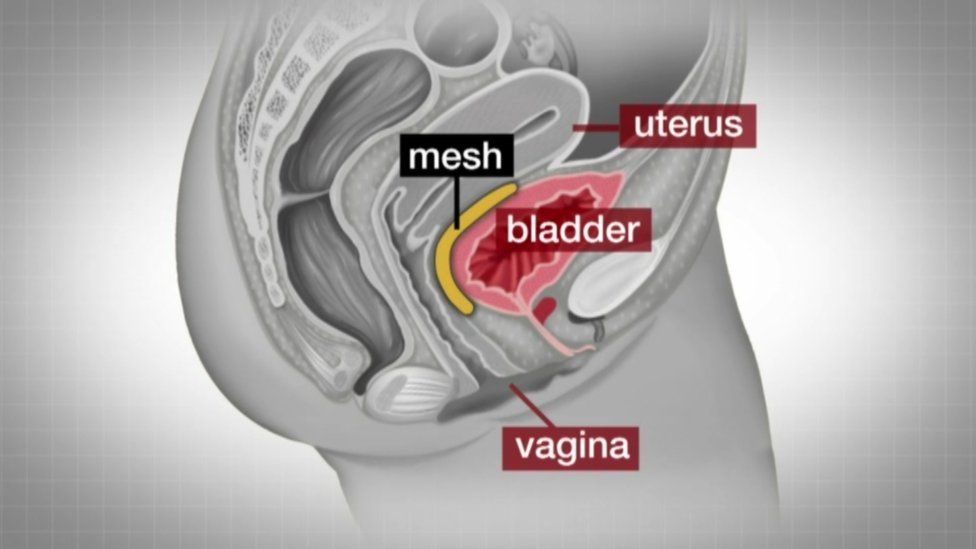 The mesh, usually made from synthetic polypropylene, is intended to repair damaged or weakened tissue
Over 20 years, more than 100,000 women across the UK had transvaginal mesh implants, which are used to treat pelvic organ prolapse (POP) and stress urinary incontinence (SUI), often after childbirth
While the vast majority suffer no side effects, the use of mesh in Scotland was suspended except in "exceptional circumstances" in 2014 after it emerged some women suffered painful side effects
Use of the procedure was halted in 2018
Once the mesh is implanted, it is very difficult to remove

'The system doesn't seem fit for purpose'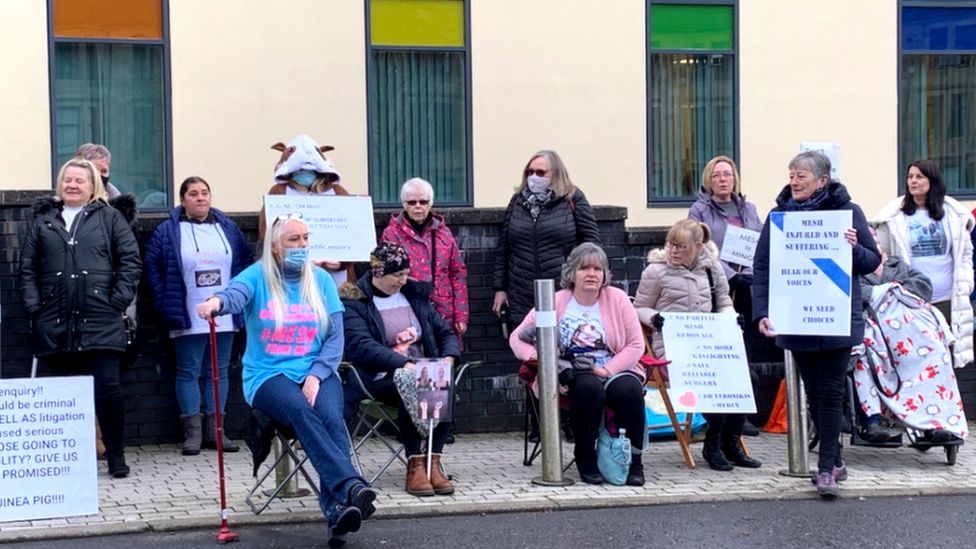 Isabelle McLafferty, of Scottish Mesh Survivors, told BBC Radio's Good Morning Scotland programme the group had been working with the committee on reimbursement so that women who have paid out of their own pocket to get to America can be compensated.
But she added there had been no further information about how people get to America for surgery.
Ms McLafferty said it looked as if patients have to be reassessed in Glasgow, but new referrals were taking "anything up to two years".
She believes the pandemic and NHS waiting times have played a part in the delays but she added: "The actual system that has operated for the Glasgow Mesh Centre does not seem fit for purpose.
"Women are receiving appointments and then it is being cancelled a week in advance.
"One lady had been scheduled to be seen today and is now not being seen until May/June 2022."
Ms McLafferty said patients do not have time to wait any longer and added the situation has gone on for far too long.
Asked how she was managing, the retired teacher said: "Each day can be completely different. I don't plan anything any more.
"Each day I can wake up and one day I can be fine, other days I am in pain constantly down my leg which creates issues with my mobility."
She added that she also suffers from intermittent issues with her bowel and bladder.
'We don't want to be guinea pigs any more'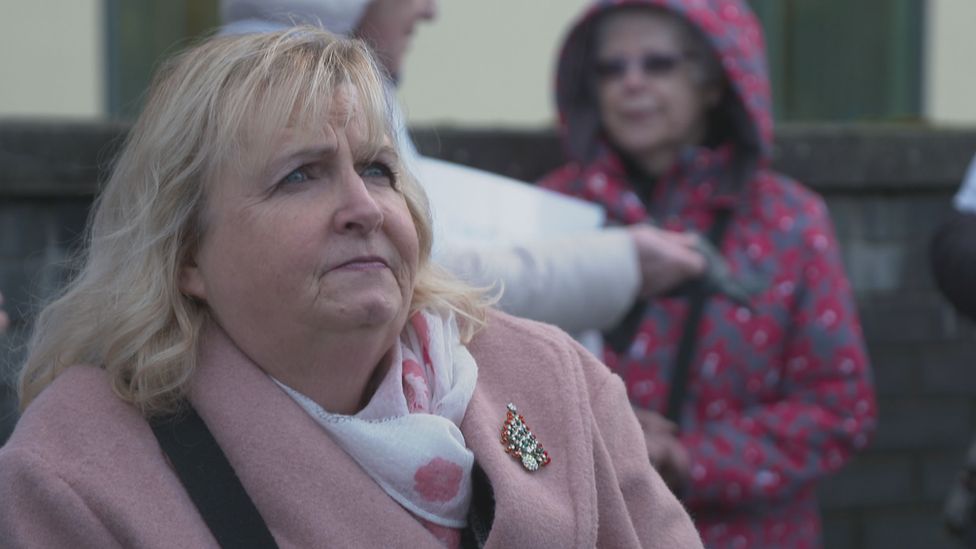 Marian Kenny, who is waiting on surgery to remove a mesh implant. joined the protest outside the New Victoria Hospital in Glasgow and admitted she feels "deflated" by the lack of progress in recent months.
She told BBC Scotland: "For so much of this fight, we have been fighting to get it stopped and this is the only time we have been fighting for ourselves.
"We don't want to be guinea pigs any more."
Ms Kenny also shared her frustration over the fact she is not making plans to travel to America for a life-changing operation.
And she revealed the stress of living with her condition means she is not the same person as she was five years ago.
Ms Kenny added: "I am devastated at the fact we can't get this moving."
Health Secretary Humza Yousaf acknowledged the pain and suffering mesh survivors have been through.
He told Good Morning Scotland he hopes to finalise contracts with the clinics in Bristol and Missouri "as quickly as we possibly can".
Mr Yousaf added: "I would hope to have an update relatively soon.
"I know they have been waiting too long and I promise them I don't want them to be waiting any longer than they have to."