Strong winds from Storm Barra have caused power cuts and forced ferry services to be cancelled in Wales.
Wind speeds of 69mph (111km/h) have been recorded in Aberdaron, Gwynedd, with similar speeds expected in other coastal areas.
Western Power has reported that 446 homes have lost power across Wales, and ferry services between Rosslare and Fishguard have been cancelled.
It covers Bridgend, Cardiff, Carmarthenshire, Ceredigion, Monmouthshire, Neath Port Talbot, Newport, Pembrokeshire, Swansea and Vale of Glamorgan.
Among those who have lost power are 228 customers in Whitland, Carmarthenshire, following a high voltage fault.
Natural Resources Wales has eight flood alerts in force, on the North Wales coast, West Anglesey coastline, Llyn Peninsula and Cardigan Bay coastline, Ceredigion coast between Clarach and Cardigan, Pembrokeshire coast, Carmarthenshire coast, the tidal area at Crofty and Swansea Bay and the Gower coast.
On the roads, a fallen tree has partially blocked the A4075 Holyland Road in Pembrokeshire. There has also been a fallen tree on the A5 Holyhead Road, near the recycling centre.
Storm Arwen caused havoc for several days after it struck last weekend, leaving thousands without power, roads blocked and rail services suspended.
BBC Wales meteorologist Derek Brockway said on Twitter on Monday that it was the "calm before the storm".
Transport for Wales (TfW) said there would be speed restrictions and a revised train timetable in place from 06:00 on Tuesday until the end of services on Wednesday.
So far, no disruption has been reported but TfW expects to see damage to tracks and overhead lines.
"A significant amount of our services will either operate at different times, take much longer to reach destinations, or may not operate at all," said planning director Colin Lea.


Met Office meteorologist Rachel Ayers told BBC Radio Wales there could be "severe coastal gales" that could lead to some "temporary coastal damage".
"For inland there could be similar impact but we are not expecting quite such strong gusts," she said.
She warned there was a chance of some snow, particularly in Snowdonia.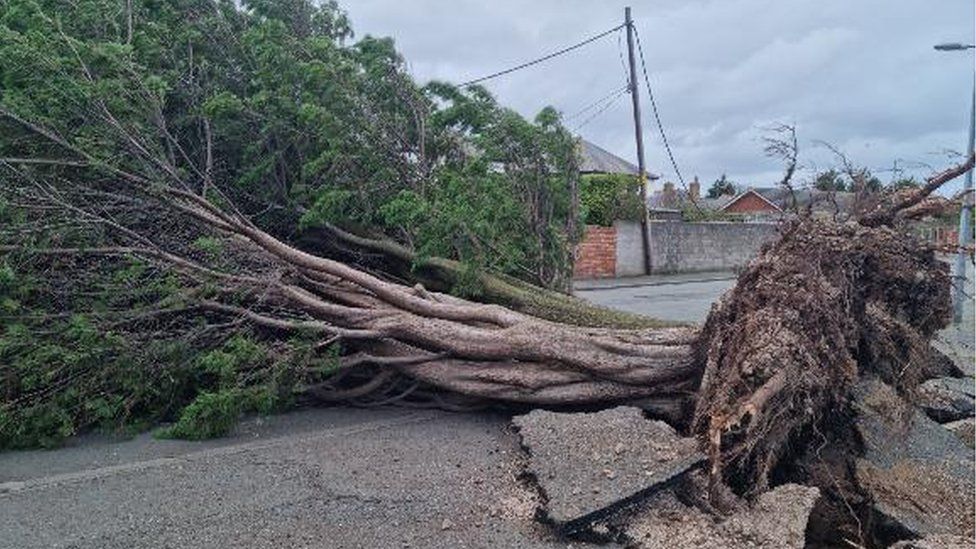 The Met Office website said there could also be delays to road, rail, air and ferry transport and coastal communities could be affected by spray and large waves.
Wind gusts of 81mph (130km/h) were recorded on Saturday, leaving 30,000 people in Wales without power at one point.
Natural Resources Wales warned people to "be cautious of weakened trees in our forests and of high waves along the coast".
The BBC is not responsible for the content of external sites.