More restrictions could be introduced before Christmas in response to the new Omicron variant, Scotland's deputy first minister has said.
John Swinney also urged people to take "the greatest of care" over household mixing.
On Tuesday people were asked to limit socialising to three households at a time in the run-up to the festive period.
But Nicola Sturgeon said the advice would not apply on Christmas Day.
Shops and hospitality venues will also be told to bring back physical distancing and screens.
The Scottish Conservatives said the restrictions were a measured response to last week's Omicron evidence paper which painted a "scary and bleak picture".
Respiratory health expert Prof James Chalmers predicted further restrictions could be imminent as experts learn more about the new variant.
On Wednesday Scotland recorded a further 5,155 new cases of Covid and 22 further deaths following a positive test.
A Public Health Scotland (PHS) report revealed there are now more than 4,000 potential cases across the country.
Asked on BBC Radio's Good Morning Scotland programme if there could be another change to the rules before Christmas, Mr Swinney said: "Potentially that would be the case but we obviously want to avoid that.
"We hope that we have done enough in the announcements that were made yesterday and we hope that members of the public and businesses will work with us in a cooperative spirit to make sure that we can take these provision forward."
Mr Swinney said he was "optimistic" enough was being done for now but cautioned that the percentage of Omicron cases in Scotland had soared from 2% about 10 days ago to more than 27%.
He added: "We have a variant that is very powerful, that is growing at an alarming rate, and we face a very severe situation.
"What we are trying to do is protect the period that people are looking forward to, to have as normal a Christmas as we possibly can do, but we need people to work with us in a spirit of caution to try and make sure that we get through this and get through it safely."
Asked about the further steps the first minister hinted to MSPs that she would like to have introduced, Mr Swinney highlighted greater application of physical distancing and limitations on capacities at different venues.
The deputy first minister also said he expected the new measures to extend into the new year.
Mr Swinney added people do not have to cancel their plans to attend mass events, such as a panto or a football match, but urged them to ensure they are fully vaccinated and to take a lateral flow test before they attend.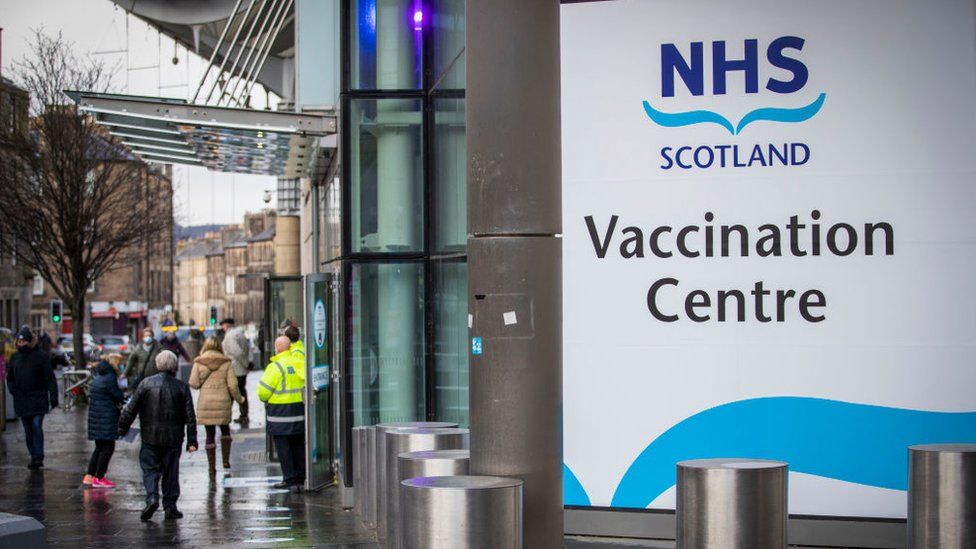 Scottish Conservative health spokesman Dr Sandesh Gulhane said Omicron was "spreading like wildfire through our communities".
He said the new guidance was "measured and what we need at the moment" but further restrictions should not be ruled out as long as there is government support for businesses.
The practising GP also described boosters as "the way out of this" and called for more drop-in vaccination facilities.
'Government needs to be ready'
Meanwhile, Prof Chalmers of Dundee University said the new variant has a rate of infection of 50% – one person with the virus in a room of 100 could infect 50 people.
But he said the full picture of the threat it posed was not yet clear.
"I think the government needs to be ready next week, as we get more data on the vaccine protection against severe disease and other gaps that currently need to be filled in terms of our knowledge, to think about what other measures may be required," he said.
"If this is as bad as we think it is going to be there may still be other measures required over the Christmas and new year period."
Meanwhile, the Scottish Grocers Federation told the programme it was "the worst time of year" for its members to introduce a queuing system.
And Stephen O'Regan, who runs three Kitty of Shea's bars in Glasgow and Edinburgh, admitted he "felt sick" when he heard the first minister's update.
The chain is already up to 60% down on bookings and fear some stock, such as the 300 kegs of Guinness ordered for December alone, may go unopened.
The lack of detail from the government about the restrictions was "frightening", he added.
Ms Sturgeon last week said that Scotland was facing a "likely tsunami" of new infections of Covid-19 in the weeks ahead, with a "very significant" impact on health services.
In response, work is under way to ensure all eligible adults receive their booster vaccination by the end of the year.
And guidelines limiting socialising to three adults and measures to cut down crowding in shops and bars were announced on Tuesday.
However, schools are to remain open, with Ms Sturgeon saying it was a "key aim to ensure that schools stay open if at all possible to minimise further disruption to education".