Peng Shuai, one of China's most popular tennis players, has denied saying she had made accusations of sexual assault against a former senior politician on social-media site Weibo.
Her original post was on 2 November, after which her personal feed was censored, leading to concerns over her well-being.
We've looked at the timeline of events to understand the online censorship techniques used against Ms Peng.
What happened to Ms Peng's posts?
She published a post on Weibo on 2 November, alleging she had been coerced into sexual relations with Zhang Gaoli, a former Chinese vice-premier.
In it, Ms Peng alleged that originally, she hadn't agreed to a sexual relationship with him and "kept crying," but eventually "agreed."
That post disappeared quickly – probably within the hour.
Using the Wayback Machine internet tool – which allows you to scroll back in time online – we can see that by the end of that day there was no trace of the post.
We then looked at Ms Peng's timeline and found that six more posts had gone, and she herself has not posted on Weibo since 2 November.
This isn't the first time a high-profile athlete has been censored.
Last year, outspoken former China international footballer Hao Haidong was also censored on the internet, along with his wife, Ye Zhaoying, a retired badminton player, after he openly called for the removal of China's ruling Communist Party.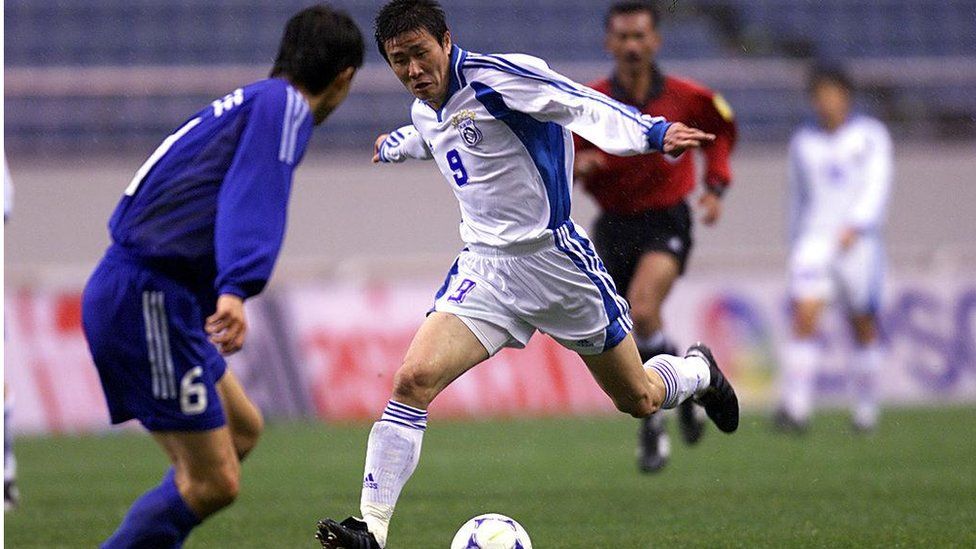 What happened to her online followers?
Weibo users, just like those on Twitter, can normally post comments in reply to posts.
However, comments on Ms Peng's own timeline have been blocked – making it impossible for her followers (more than half a million of them) to engage in a conversation.
It also appears that certain specific search terms were temporarily blocked – so if a user typed Ms Peng's name, for example, results were restricted.
The only search result for her name that shows up on Weibo is a post from the French Embassy in Beijing on 22 November, expressing concern about the lack of information on Ms Peng.
People were able to comment on this, but only selected comments actually appeared.
There is some other content relating to Peng Shuai currently available on Weibo – but it's just video clips from her old tennis matches.
In addition, Weibo posts by other users referring to Ms Peng have been removed.
On 3 November, Chinese tennis commentator, Ouyang Wensheng, wrote: "Hope you are safe" and "How desperate and helpless she must have been". Both these posts have been taken down.
To navigate around the censors, some have come up with creative solutions.
Instead of referring to Zhang Gaoli directly, Weibo users have referred to him by similar names, or names that have the same initials in Chinese.
However, the authorities are wise to this and posts that try to evade the censors in this way have also been quickly taken down.
So far, mainstream state media have been steering clear of the story.
Search engine Baidu shows only state media reporting on Zhang Gaoli. And if you search for "Peng Shuai", the only results that show up are from 2020 and earlier.
Other social-media sites, such as Douyin (Chinese TikTok) and popular video-sharing platforms Kuaishou and Bilibili, also have limited search access for sensitive terms relating to the story.
On question-and-answer website Zhihu, no results appear when the name "Peng Shuai" is entered. However, when "Zhang Gaoli" is searched for, there are posts portraying him as a heroic leader.
What's the reaction to her latest appearances?
Last month, Ms Peng appeared in a video chat with the International Olympic Committee (IOC) President, Thomas Bach.
The IOC says she has taken part in second call more recently, that it will "stay in regular touch" with her and "have a personal meeting in January".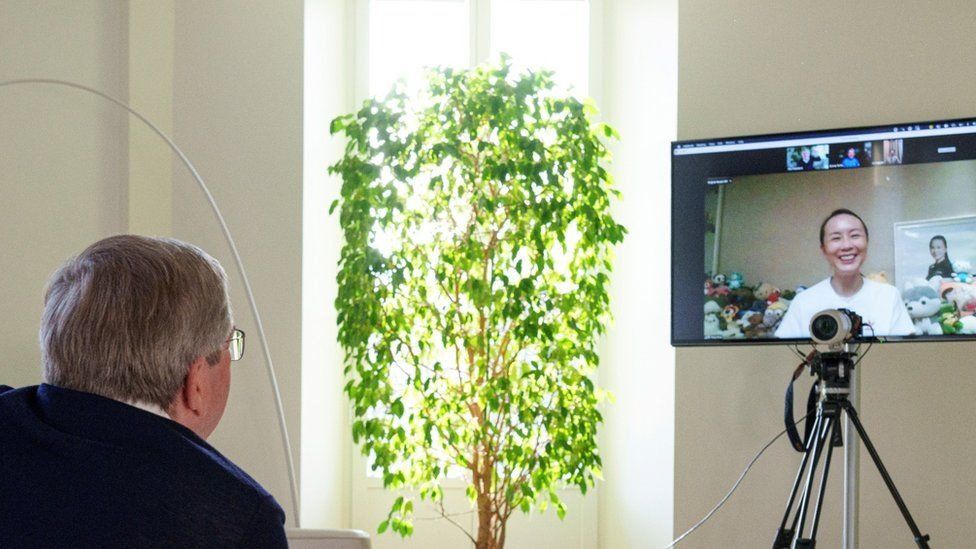 Prior to that, Hu Xijin, the editor of the Global Times, a Chinese government-affiliated media organisation, had posted videos on Twitter, showing her in public.
During the conversation, a man in the group says "tomorrow is 20 November" and is corrected by a woman who says it's 21 November.
Some Twitter users questioned if the conversation had been staged to emphasise the date.
None of the videos and reports about her being seen in public in recent days could be found on Chinese social media. And the WTA said these videos didn't alleviate their concerns about her.
Some of the world's most high-profile tennis players had asked about Ms Peng's whereabouts.
Former world number one Naomi Osaka wrote on Twitter: "Censorship is never OK at any cost. I'm in shock of the current situation and I'm sending love and light her way."
An online campaign, using the hashtag #WhereIsPengShuai?, began circulating a few days after Ms Peng originally posted on Weibo, and started trending on Twitter.
China has been reluctant to speak about the case, but foreign ministry spokesman, Wang Wenbin, told a press briefing earlier in December that China "opposes the politicisation of sports".
This remark, as previous ones related to the issue, was later excluded from the official transcript of the press conference.