Nightclub owners have criticised the slow rollout of financial support for their businesses, which have been closed again under Covid restrictions.
But trade groups said Scottish government funding promised before Christmas has not yet materialised.
Deputy First Minister John Swinney said the grants will be paid "very soon".
Restrictions on large outdoor events in Scotland, including football matches and concerts, are to be lifted from next Monday.
But limits on indoor events and venues will remain in place for at least another week as part of a phased approach to lifting measures brought in to help deal with a surge in Covid cases caused by the Omicron variant.
Gavin Stevenson, vice-chairman of the Night Time Industries Association Scotland (NTIAS) and director of the Mor-Rioghain Group of hospitality venues, told BBC Radio's Good Morning Scotland programme: "As of today not a single penny of the funds promised before Christmas have reached businesses.
"It is putting businesses in an incredibly difficult situation, wondering how on earth they are going to pay their staff this week when they've got no money in the bank because they have been forced to close or trade is unviable by the current round of restrictions."
Mr Stevenson claimed the forms for the Scottish government's nightclub closure fund had not been issued yet, adding this is putting business owners and their staff "in an untenable position".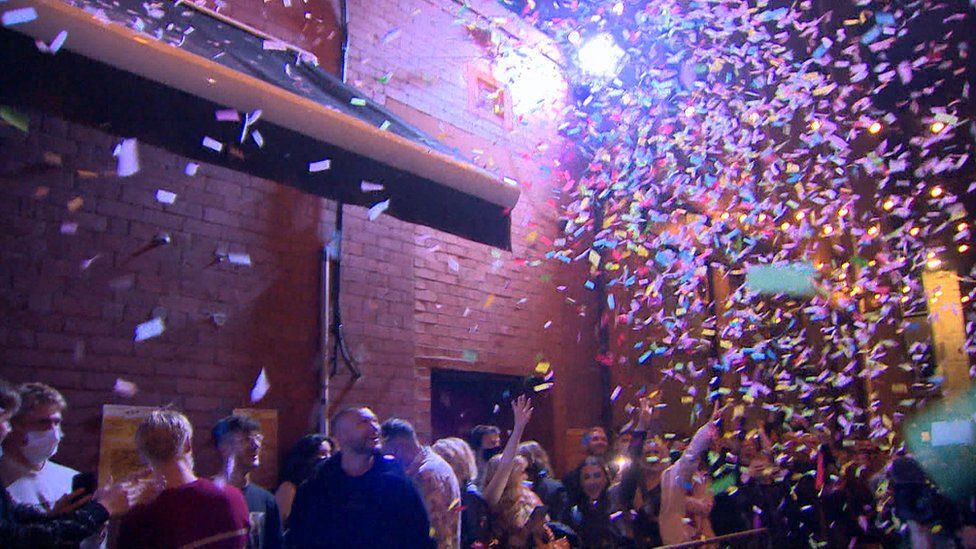 Deputy First Minister John Swinney told Good Morning Scotland that the funding issue "has got the attention of ministers".
He added: "We're moving as quickly as we possibly can do to make the financial support available to the sectors which have been affected by the restrictions.
"We work closely with local authorities to make sure such funding arrangements can be put in place.
"The timescale should be very soon, it's difficult to give a precise timescale but I would think within the next two weeks would be a reasonable expectation."
Mr Swinney said the delay was partly down to setting up the payment process and the public holidays over the Christmas period.
The government's nightclub closure fund allows venues to apply for a grant up to £55,000.
Other hospitality businesses have also spoken of the impact restrictions have had on trade.
Restrictions were introduced for pubs, restaurants and other indoor public places on 27 December.
Indoor hospitality and leisure venues have to ensure there is a one-metre distance between different groups of people, and table service is required where alcohol is served.
Scott Mitchell, managing director of Surgeons Quarter, which runs a hotel and events business in Edinburgh, said it had lost £225,000 in sales due to cancellations of Christmas and Hogmanay events.
He said: "While we welcome the apparent mindset shift towards gearing up for living with the pandemic, the government simply isn't doing enough to save hospitality.
"The first minister is leaving the sector with support measures that are not fit for purpose and arbitrary restrictions that will result in countless lost jobs and livelihoods.
"The support we are receiving equates to roughly 3% of the sales we have lost, which are in excess of £225,000."
Dr Liz Cameron, chief executive of the Scottish Chambers of Commerce, added: "Businesses urgently need the financial support promised to them to be delivered as quickly as possible and additional financial support is made available should restrictions remain in place any longer."